Intensive Outpatient Program (SERV)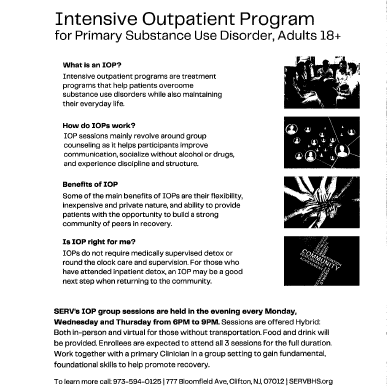 What is an IOP?
Intensive outpatient programs are treatment programs that help patients overcome substance use disorders while also maintaining their everyday life.
How do IOPs work?
IOP sessions mainly revolve around group counseling as it helps participants improve communication, socialize without alcohol or drugs, and experience discipline and structure.
Benefits of IOP
Some of the main benefits of IOPs are their flexibility, inexpensive and private nature, and ability to provide patients with the opportunity to build a strong community of peers in recovery.
Is IOP right for me?
IOPs do not require medically supervised detox or round the clock care and supervision. For those who have attended inpatient detox, an IOP may be a good next step when returning to the community.
Eligibility
For adults 18+ only
Age Groups
Health Services

Behavioral / Mental Health

Treatment Services

Outpatient Services

Treatment Settings
Last Updated: 04/20/23