Community Resource: Virtual Therapy (FREE)
973-356-5681; 201-693-5161
Paterson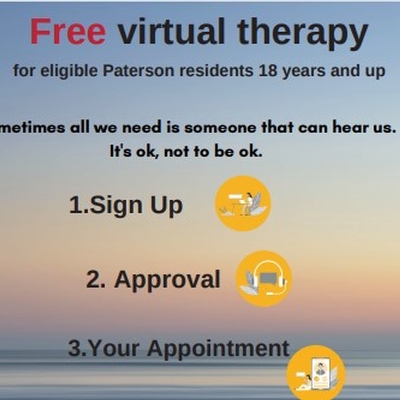 Are you feeling stressed, anxious, sad or overwhelmed because of the pandemic? You're not alone. Invest in your mental health! it's okay to not be okay!
The Health Coalition of Passaic County has teamed up with St. Joseph's health to provide free mental well-being services for Paterson residents.
How does it works?
1. Sign up- *scan QR Code in the flyer or click on link* to fill out the form. You will need to upload proof of Paterson residency (Driver's license, non-Driver ID, or utility bill etc.)
2. Must obtain approval- If eligible, in 2 business days you will get an email of the first appointment. If not, you will receive an email with alternative resources.
3. Your appointment- That's it! You can begin your free 8-week therapy program.
Eligibility
For Paterson residents 18+ only!
Age Groups
Community Services

Family & Support Services

Health Services

Behavioral / Mental Health

Crisis / Safety

Medical
Last Updated: 12/01/23