Hispanic Information Center of Passaic
(973) 779-7022
Passaic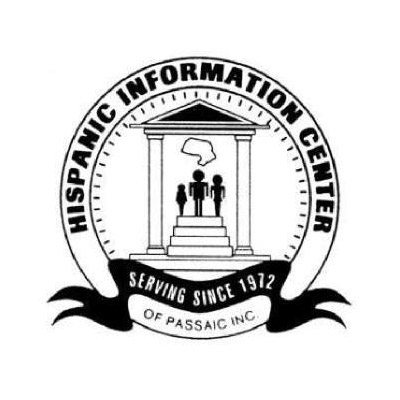 The agency is an oasis and a pillar of hope for the lonely senior, the jobless, the wayward teenager, the worried and failing student, the abandoned child and abused spouse, the homeless family, those affected by the disease of addiction. It is a voice for those who cannot speak for themselves.
Community Service
The Community Service Program strives to inform low and moderate income clients of the available resources which will help them to develop and maintain economic self-sufficiency. It also assists in the following areas:
General Social Service & Information
Social Adjustment Job Placement
Emergency Shelter
Food Referral
Advocacy
Translations
Referrals
Youth Counseling Services
Youth Counseling Services was created to serve individuals referred by schools, state agencies or families. It provides school drop-out prevention and individual and group counseling to help youth cope with family, school and environmental problems. This program also serves as an advocate for youth in school, city and county agencies.
Behavior Modification
Tutoring
Pre-Delinquent & Family Intervention
Recreation & Field Trips
Homebound Program
The Homebound Program provides assistance to persons who are homebound due to age or illness. The goal is to prevent institutionalization. Services are geared toward improving the quality of life and independent living within the heritage characteristics of a Latino culture. Services include but are not limited to:
Case Management
Counseling
Referral
Translations
Interpreters
Recreational Activities
Social Events
Foster Care Home Program
The Foster Care Home Program is designed to assist children whose natural parents are unable to provide adequate care at home. Families are recruited in order to provide a temporary home environment. The goal of the program is to reunite the child with the family or to insure that the child will have a safe and nurturing family environment. The program is founded on the premise that all children have the right to physical and emotional protection. Foster care parenting is not a life-time commitment but a meaningful contribution to a child's life, until a permanent placement is found.
The Foster Care Home Program provides support and guidance in addition to room and board. Emphasis is placed on modification principles to assist the adolescent to achieve success, happiness and self-fulfillment in society.
Bridge Homes / ARC
The goal of this program is to provide foster care placements for adoptive children ages 7 to 10 whose placements have been disrupted. As in our Foster Care Home Program, such placements continue until a permanent placement is found.
Alcohol Outreach Program for Minorities
This program was established to serve the needs of individuals suffering from the consequences of alcoholism. The program provides a sixteen week treatment service. It is the only Hispanic alcoholism treatment and referral service program in Passaic County which takes into consideration the cultural uniqueness of the Hispanic client.
Age Groups

Children
Adolescents
Adults
Seniors

Community Services

Arts & Recreation

Basic Needs / Assistance

Education

Family & Support Services

Health Services

Behavioral / Mental Health

Treatment Services

Outpatient Services

Language Spoken
Last Updated: 01/28/17