Youth Safety & Drug Awareness
Saturday, June 17, 2023
1:00 PM - 2:00 PM
Paterson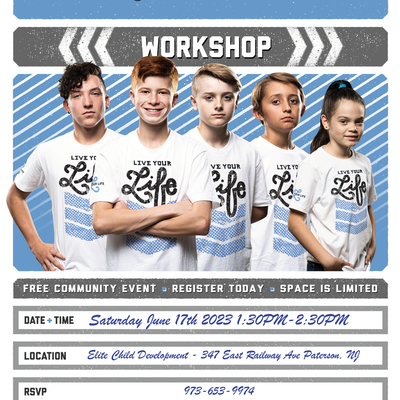 Our mission is to provide preventative safety education to children and empower them to be smart, be safe, and live their best lives.
Every child should be able to go to school confidently, participate in extracurricular activities, and be online safely so they can focus on learning, making friends, and growing as a strong individual.
We want to teach your kids and the community the importance of preventing accidents, avoiding dangerous situations, learning self-defense skills, and more.
We will discuss how to avoid peer pressure if and when they are introduced to drugs and harmful narcotics.
Saturday June 17th, 2023
1:30pm-2:30pm
Event Type

Professional Workshop
Family Support
Community Conversation
Social Groups
Educational Workshop
Family Fun

Age Groups
Community Services

Arts & Recreation

Community

Education

Family & Support Services

Health Services

Behavioral / Mental Health

Crisis / Safety

Intellectual and Developmental Needs

Payment Options
Last Updated: 05/29/23